I got a new coat today! Here's what it looks like:
Except that it wasn't the one I had in mind.
This is the coat I actually wanted: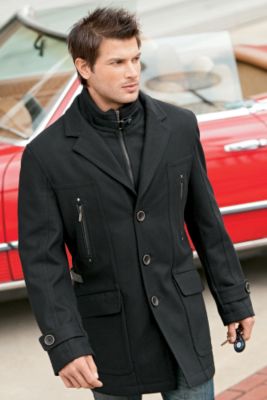 You can wear it four different ways, the inside lining of the wool outer coat was burberry plaid, and the detachable inside jacket's collar had a nifty snap/latch on the outside.
Well, I guess you can't always get what you want.
But I saved like $140 by buying the other one...
Which is a pretty decent-sized bar tab, if you ask me.
_______________________________________________________________________________________
Recommendations for today:
Hayao Miyazaki

While protecting his village from rampaging boar-god/demon, a confident young warrior, Ashitaka, is stricken by a deadly curse. To save his life, he must journey to the forests of the west. Once there, he's embroiled in a fierce campaign that humans were waging on the forest. The ambitious Lady Eboshi and her loyal clan use their guns against the gods of the forest and a brave young woman, Princess Mononoke, who was raised by a wolf-god. Ashitaka sees the good in both sides and tries to stem the flood of blood. This is met be animosity by both sides as they each see him as supporting the enemy.
I probably shouldn't do this, but
here's a link
to a decent-quality streaming version of the film. Enjoy!
And another video from one of my recent favorite bands,
Four Tet
.
Four Tet,
A Joy
, from their new album
Everything Ecstatic